Social media planning
As social marketers, research is one of our most valuable skills. Instead of browsing aimlessly through content, rummaging through thousands of social profiles or running endless Google searches, an easy way to streamline research is to sign up for a solid mix of newsletters.
Creating a 30-Day Social Media Plan
Your goal is to deliver high-quality, relevant content that will engage your audience, establish brand trust, and drive business—but how can you tailor your social content to break through all of the noise, provide value to your audience, and ultimately impact your bottom line?
This 30-Day Social Media Plan Template is designed to help you re-invent your social marketing strategy so that what you share aligns with the interests of your audiences and contributes to overall business value.
Use the social media plan template below to track your progress as you work through the plan. By completing just one task each day for the next 30 days, you can fully transform your social marketing strategy.
Week 1
Day 1: Establish goals for social
The OKR method asks you to set a broad objective statement and list out key results that describe what successfully achieving that objective looks like. Here is an example of a broad objective statement supported with clear standards that define meeting that objective.
Day 2: Define your success metrics
How are you going to define the success of your social efforts? Decide which metrics will provide the right type of data so that you can determine whether or not social is supporting your business goals.
As you identify your success metrics, set clear standards for your social campaigns so that you know when success was achieved. If you are tracking audience engagement, what exactly do you consider to be successful engagement rates for your social content?
Day 3: List out your challenges
As you list out your challenges, write out simple explanations of how these barriers are impacting your marketing efforts or overall business success. Here are a couple of examples to help you get started.
Challenge 1:
Challenge 2:
Day 4: Brainstorm solutions
Solution to Challenge 1:
Solution to Challenge 2:
Justification: Social media spending in the US alone is expected to increase to $47.9 billion by the end of 2021. Marketers are investing more in social ads to reach buyers with purchase intent through the appropriate social channels.
Day 5: Analyze the competition
You can pinpoint days when competitors experienced peak engagement and can dive deeper into what content was shared on those days to understand the type of content that resonates most with target audiences.
Step One: Evaluate your current social strategies and tactics
It may sound a bit overwhelming to audit your social media graphics , posts, and engagement because there's SO much content. So many people just skip it. And then they're confused months later when their social media strategies fail.
This brand noticed that their current Instagram account is valuable and gets the most reach. So why would they invest time in the other ones? Instead, they'll take a closer at Instagram trends, the users, and the overall platform to better understand why it works for them.
How To Create a Content Calendar
Download HubSpot's content calendar template.
Draft your content goals.
Determine what types of content you want to publish.
Choose which platforms you will post on.
Plan the most efficient posting schedule for your content.
Step 1: Download HubSpot's content calendar template.
Consistently posting content is key to making the most of your business's social media accounts. HubSpot's content calendar template makes it easy to set up a monthly posting schedule for all of your business's social media accounts. The template can be opened in Excel or uploaded to Google Sheets, so you can easily plan content with your team from anywhere.
HubSpot's content calendar template​​​​​​​ includes a monthly planning calendar, a content repository, and posting schedules for Twitter, Facebook, LinkedIn, Instagram, and Pinterest. With HubSpot's content calendar template, your team can view and manage all of your business's social media posting schedules and deadlines at a glance.
Step 2: Choose your content goals.
Americans spend around 2 hours on social media every day, making it a great way to reach out to your business's current and potential customers. It's not enough to know what you want to post; you also need to understand why your business posts content.
Posting content to social media can help your business achieve many goals, including raising brand awareness, driving traffic to your website, introducing new products and services to your customers, and even launching rebranding campaigns, to name a few.
When choosing your business's content goals, consider what your brand most needs to accomplish. Are you looking to reach out to a new demographic and generate leads? Do you want to increase your customers' engagement with your business? Knowing your content goals can help to ensure that your business's content reaches the right audience with the right message.
Step 3: Determine what types of content you want to publish.
Once you know your business's goals, decide what types of content your business will post. Each type of social media content has advantages and disadvantages. For example, blog posts and articles can help your business build credibility, but they can be time-consuming to create. Meanwhile, Tweets can help your business gain consumer insight and hone its brand voice, but Twitter's limit of 280 characters per Tweet means your business may have to use long threads of multiple Tweets to get your message across. Carefully choosing the types of content that your business will post can help to ensure that your content is providing value to your audience.
Step 4: Determine what platforms you will post on.
Your business's social media presence should be informed by its content, goals, and target audience demographics. For example, while posting on Instagram may help your business reach a young audience and market goods, the photo and video sharing platform may be a poor choice if you want to increase blog traffic among professionals in your industry. Likewise, a LinkedIn post may help drive traffic to your business's blog but may not help you drive traffic to your online store.
Step 5: Determine the most efficient posting schedule for your content.
After deciding on your business's goals, the types of content you will publish, and where you will post the content, you need to create the posting schedule that your business will use. Each social media platform has peak engagement times — certain days and times of day when users are most likely to view and engage with posts. Therefore, knowing the best times to post on each social media platform will help you maximize the reach of your business's posts. For instance, user engagement on Facebook peaks between 11 a.m. and 1 p.m. on Wednesdays. User engagement on Facebook is lowest on Sundays, before 7 a.m. each day, and after 5 p.m. each day.
When creating your business's content calendar, account for the engagement patterns for each of your business's social media accounts to demystify the scheduling process, save time, and get your posts in front of your audience when they are most likely to see them.
Sources:
https://sproutsocial.com/insights/templates/social-media-plan/
https://venngage.com/blog/social-media-plans/
https://blog.hubspot.com/marketing/social-media-calendar-tools
Social media planning
A social media plan, in other words a social media strategy, is ultimately an insightful summary of everything you plan on doing and hope to achieve on your social media profiles. Setting up a well thought-out strategy for your business in terms of its social media presence is highly beneficial. The more specific and detailed your plan is, the better your performance will be.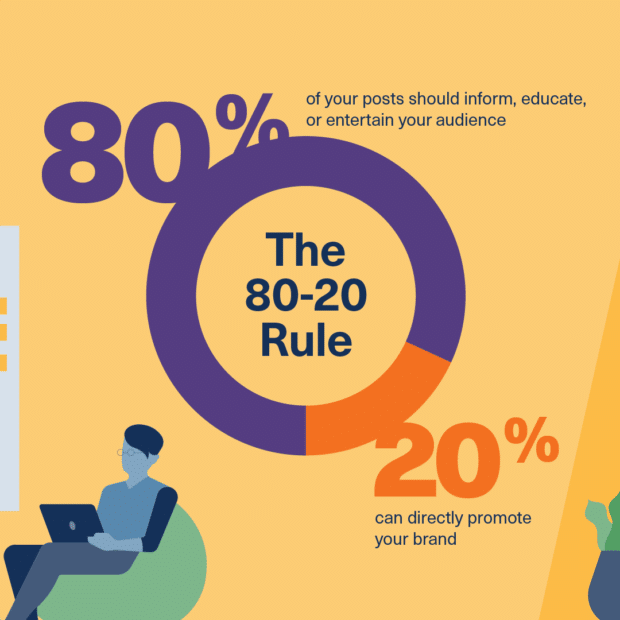 Make informed decisions
The channel-planning process involves three steps: (1) understanding the platform's value proposition, (2) creating your brand's use case for engagement, and (3) ensuring everyone on your team works from the same set of guidelines. Let's look closer at each one.
1. Value propositions for social media channels
Each channel and its core community's engagement preferences play major roles in deciding if your content is a good fit. Your audience might be open to connecting with your brand in a Twitter chat but reserves Snapchat for personal conversations. Authoritative long-form content might play well on LinkedIn or Medium, while memes, mash-ups, and captioned photos are more appropriate for platforms like Instagram.
It's important to familiarize yourself with the characteristics of each channel and its corresponding community before joining the conversation. Use this helpful tip sheet from Aaron Agius as a primer for matching the content to the best distribution channel to achieve your brand's goals.
2. Use case for social channels
With a short list of potential channels in hand, map existing content assets to their most appropriate distribution channels. Remember to consider the content experiences audiences expect, determine if you have the resources to meet those expectations, and evaluate the potential to deliver meaningful business results with your efforts.
Answer these questions (adapted from CMI's Social Media Survival Guide) to decide if a channel is the right fit for your business. Your responses also can provide clues as to how to position your content to compel the audience to act:
If your responses don't reveal a compelling opportunity to engage on that channel or if the platform's environment isn't suited to your brand's unique content vision and mission, take a step back and reserve your team's resources for channels that are a better fit.
3. Standards for your brand's conversations
I recommend reviewing your company style guide to refine your social personality and instill factual accuracy and precision. That includes correct usage (and spelling) of unique terms – like company trademarks, product names, personnel, and service offerings.
Also consider how to draw attention to your social media content, including the use of hashtags. Wally Koval, former CMI team member and author of Accidentally Wes Anderson created from his popular Instagram account by the same name, has pointed out that pursuing too many audiences at once can dilute your content's impact. He suggests aiming for five to 10 of the most relevant hashtags – including two or three unique to your brand.
Take note of topics or issues your team should avoid discussing on social media, as well as any legal or regulatory policies they must follow. For example, if you don't want to risk falling afoul of the EU's GDPR rules, North Coast Media's Bethany Chambers suggests documenting these criteria in your social media guidelines:
Consumption preferences and audience trends: Are there industry events, media innovations, or consumer behaviors on which your content distribution can capitalize (e.g., livestreaming video consumption habits, device-specific capabilities like memojis, popular memes)? How might these impact the tone/velocity of your distribution? Are there controversies or algorithm shifts that might cause you to reconsider their value to your brand?
Current events: Trending topics can present timely distribution opportunities. For example, important, culture-related topics like diversity and inclusivity, racial sensitivity, and gender equality are at the forefront of the U.S. media's conversations right now. When brands use their social content as a podium to express their values and lend their support to important issues – like Chase and Fubu CEO Daymond John did by co-creating Black Entrepreneurs Day, a Facebook livestream event that featured roundtable discussions, audience Q&As, and musical performances – it can earn them a critical boost in visibility and relevance in social media conversations that may have been closed to them.
Team resources: If you only have an editor or two managing the content marketing process, the bandwidth for consistent distribution and conversation monitoring may be limited to a few outlets; however, if you have a full team of writers, editors, and other distribution partners at your disposal, the extra manpower (or womanpower, see above) affords increased flexibility and control to manage content across many more channels.
How to create a social media marketing strategy in 9 steps
Read on for detailed steps to creating a social media strategy. Or, watch this video where Hootsuite's own Senior Manager of Social Media Marketing, Amanda, guides you through our free social media marketing strategy template, step by step:
Step 1. Choose social media marketing goals that align to business objectives
Set S.M.A.R.T. goals
Track meaningful metrics
For example, if you use LinkedIn to drive traffic to your website, you would measure click-throughs. If Instagram is for brand awareness, you might track the number of Instagram Story views. And if you advertise on Facebook, cost-per-click (CPC) is a common success metric.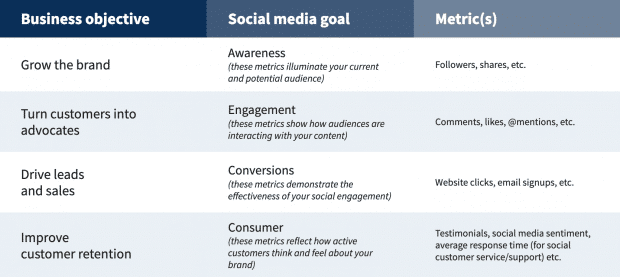 Step 2. Learn everything you can about your audience
Create audience personas
Knowing who your audience is and what they want to see on social media is key. That way you can create content that they will like, comment on, and share. It's also critical if you want to turn social media followers into customers for your business.
Gather data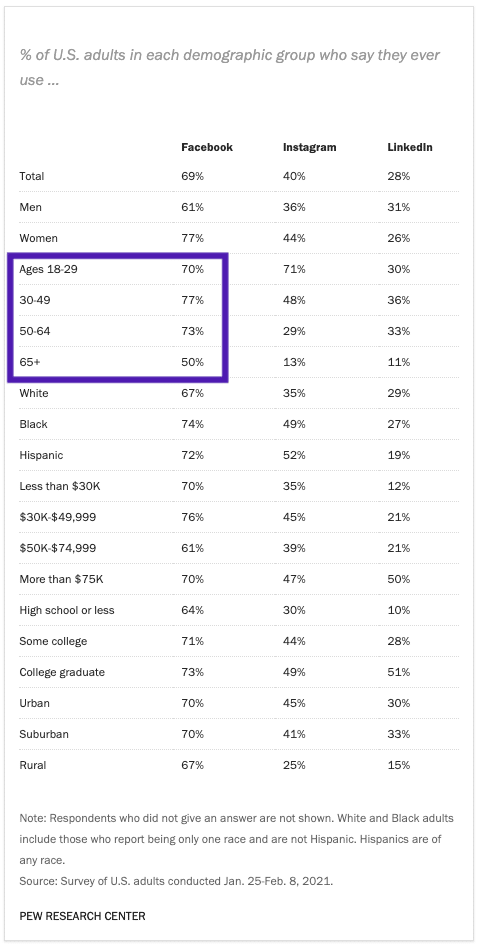 Social media analytics can also provide a ton of valuable information about who your followers are, where they live, and how they interact with your brand on social media. These insights allow you to refine your strategy and better target your audience.
Jugnoo, an Uber-like service for auto-rickshaws in India, used Facebook Analytics to learn that 90% of their users who referred other customers were between 18- and 34-years-old, and 65% of that group was using Android. They used that information to target their ads, resulting in a 40% lower cost per referral.
Step 3. Get to know your competition
Conduct a competitive analysis
A competitive analysis allows you to understand who the competition is and what they're doing well (and not so well). You'll get a good sense of what's expected in your industry, which will help you set social media targets of your own.
Maybe one of your competitors is dominant on Facebook, for example, but has put little effort into Twitter or Instagram. You might want to focus on the networks where your audience is underserved, rather than trying to win fans away from a dominant player.
Use social media listening
As you track, you may notice shifts in how your competitors and industry leaders are using social media. You may come across new, exciting trends. Or, you might spot a specific post or campaign that really hits the mark—or totally bombs.
Bonus: Get a free social media strategy template to quickly and easily plan your own strategy. Also use it to track results and present the plan to your boss, teammates, and clients.
Step 4. Do a social media audit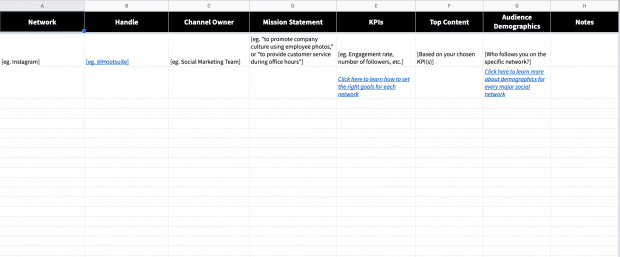 Look for impostor accounts
Step 5. Set up accounts and improve profiles
Decide which networks to use
Hootsuite's own social team even designates different purposes for formats within networks. On Instagram, for example, they use the feed to post high-quality educational infographics and product announcements and Stories to cover live events or quick social media updates.
Set up your profiles
Step 6. Find inspiration
Social media success stories
Award-winning accounts and campaigns
Your favorite brands on social media
Ask your followers
Step 7. Create a social media content calendar
Set your posting schedule
Your social media content calendar lists the dates and times at which you will publish types of content on each channel. It's the perfect place to plan all of your social media activities—from images, link sharing, and re-shares of user-generated content to blog posts and videos. It includes both your day-to-day posting and content for social media campaigns.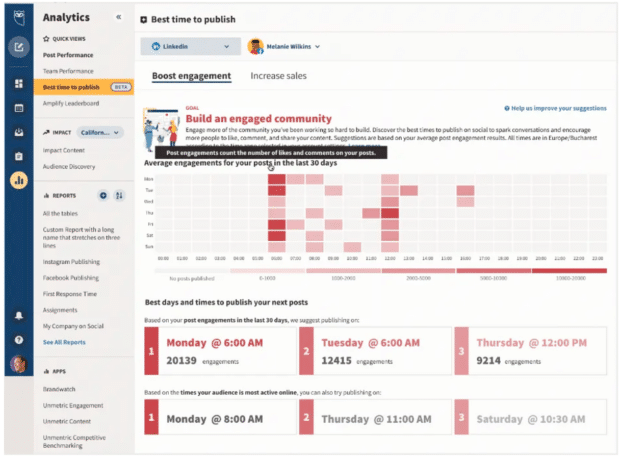 The importance of social media for businesses in 2022
The times when businesses used social media purely for fun are far behind us. Now, it's all about building brand awareness, making profit, providing social proof, and simply growing your businesses. Nothing provides better proof than numbers and statistics, so let's see what this year is telling us in terms of social media and its importance:
Simply knowing how to create a social media plan is not enough, you surely know that by now. Without further ado, let's reveal the secret recipe for the most perfect social media plan you will ever find. Once you understand how to make a social media plan that will be effective, you will be on the right path to achieving your objectives.
1. Define your starting point.
Realizing where you are at when it comes to your social media marketing activities should be the very first thing you do. Before you come up with a proper social media plan, take a closer look at your own profiles as well as those of your competitors. This will help you identify what works and what doesn't. How to do that exactly? Here is what we recommend before you start planning a social media campaign:
2. Specify your target group.
Understanding your audience is crucial to a successful social media marketing plan. After all, you should be creating content (from scratch or reusing curated content) that your target group likes, comments on, and shares. Luckily, there are a few ways to get to know your audience.
3. Analyze your competitors on social media.
Take some time to study your competitors and see what you can learn from them. Also, pay attention to their statistics such as reach and engagement rates. They will be good indicators of the strength of your competition, as well as how much potential there may be for you to break into this market.
4. Set the objectives.
Smart, detailed goals will allow you to create well-structured campaigns, measure your progress, and optimize your social media strategy in the long run. How to distinguish a proper objective, as opposed to a vague one? See the difference for yourself:
There is a very useful objective planning model called SMART that will help you design your objectives when it comes to planning a social media campaign. According to this model, your objectives should be:
Beware of so-called vanity metrics! These are numbers that you can easily keep track of, but don't mean much for your business – just like the number of followers on social media does. Examples of worthwhile KPIs include: Engagement rate among your target group; CPA: CPC, CPL, and CPS; Reach; and Referral traffic to your website.
5. Pick the right communication channels.
Social media is so much more than just Facebook. When choosing the best platforms for your business, you should look at the benefits of each and every one of them. Basically, the aim is to choose the social networks that are used by your target audience the most and suit your brand's image at the same time. Once you decide which platforms you're going to include in your social media strategy, it's time to plan a social media marketing plan for every social network.
6. Think of the best communication lines and content formats for every platform.
In order to diversify your content, you should create unique posts for each social network with their features in mind. Consider incorporating user-generated content, live videos, stories, and polls in your social media content strategy, just to name a few. The possibilities here are endless, but you should always make sure that at least some of your content actually supports your overall business goals. For example, you may decide that a part of your content aims to drive traffic to your blog, another part supports lead generation, and the remaining part educates and entertains the audience. The ratio here is entirely up to you, though.
7. Put your social media marketing plan to work: designate tasks.

A successful social media marketing strategy often requires a motivated team. It's important not only to have the best people on board but also to distribute tasks between them wisely, and then ensure seamless collaboration in order to actually complete those tasks effortlessly.
Sources:
https://contentmarketinginstitute.com/2021/02/control-social-media-success-plan/
https://blog.hootsuite.com/how-to-create-a-social-media-marketing-plan/
https://www.kontentino.com/blog/social-media-strategy-make-the-most-of-a-social-media-plan/
Social media planning
The strategy? Figure out who the influencers are in your space, who's listening to them, and whether they're competitors or potential partners. Then build relationship with the small players who are a good fit for targeted outreach.
Social Media Audit Template
Conduct a social media audit to inform your marketing plans. Analyze your activity, customer engagement, audience reach, number of followers, and recent changes. Use this data to refine your social media strategy, as well as create and share more effective content. Customize the template to include all the marketing channels and KPIs you want to measure.
For more templates, as well as information on creating a social media strategy and planning a social media content calendar, visit our post "Free Social Media Templates for Excel." We also offer a guide to social media calendars, including benefits, best practices, planning tips, and additional calendar tools. For a comprehensive marketing overview, see the "Definitive Guide to Strategic Marketing Planning."
Some Influential Social Media Stats
Before we jump on to the holiday social media plans, let's go through some statistics about social media that you should be familiar with and get the knowledge about how profitable it can be for your business:
There are more than 4.55 billion social media users across the world. (Kepios)
More than 73% of marketers believe their social media efforts were somewhat or very effective. (Oberlo)
54% of people use social media to research their products. (GlobalWebIndex)
Over half a billion new users joined social media in the last 12 months. (Hootsuite)
As of 2021, Facebook is the largest social media platform globally with 2.85 billion monthly active users worldwide. (Backlinko)
There were more than 6 million active advertisers on Facebook only. (Facebook)
Facebook stories get 500 million views everyday. (TechCrunch)
Twitter's more than 4.5 billion U.S. dollars in advertising service revenues, up from 3.2 billion U.S. dollars in the previous year. (Statista)
90 percent of Instagram users follow a business. (Instagram)
80% of people say Instagram helps them decide whether to buy a product or service. (Facebook)
LinkedIn accounts for more than 50% of all social media traffic to company websites. (LinkedIn)

Want To Save This Guide For Later?
If you're worried about the time drain that social media can be, don't worry. Social media marketing isn't about hanging out with your prospects and customers. It's about executing the social cycle while minimizing costs—which means you need to master the methods and metrics for all 4 of the stages.
Whether you're paying attention or not, people are talking about you and reaching out to you on the social web. They're sharing their experiences with your products. They're talking about the things you're saying or doing. They're even asking you questions.
Your aim is to tune into the pulse of public sentiment towards your brand, your industry, and the topics that relate to your brand. In a sense, it's reputation management. But it can also help you perform real-time customer service and identify product or content gaps that need to be filled.
What is a feedback loop? It's a process you create for your teams to use when addressing issues that arise during social listening. It clearly maps out the people or departments that issues should be routed to and who has responsibility for resolving them.
When your social listener sees a complaint or issue, say in Twitter, they'll perform "triage"—responding with an empathetic "you've been heard" response—and then route the issue to the proper team. This happens within 12 hours of the complaint/issue.
Having a social media listener is well and good, but in the real world, they often don't have the specialized knowledge or authority to resolve the issues that will arise. And sometimes they don't know who should take care of those issues, either.
For social media marketing to work, you need to make it human and authentic. Even when you're dealing with a complaint, your aim is to align yourself with the person, de-escalate the situation, and provide a compassionate, human touch.
This approach demonstrates that you're listening. It also allows you to express compassion. And by moving the conversation to a private channel, you make people feel as if you're committed to giving them a real solution.
At this stage, your aim is to lead and direct your followers' opinions, attitudes, and behaviors. And since you've been listening, it's relatively easy. You already know the trending topics and conversations taking place, so adding your authority voice is the natural next step.
Keep in mind, this stage of the success cycle is influenced by the social listening you did in Stage 1. But the reality is that you'll continue listening at every stage. In fact, once the cycle is going, you'll perform every stage every day.
It may help to think of social networking as a live event—except your interactions are online rather than face-to-face. After all, networking is networking, no matter where (or how) it happens. And it can lead to deep and lasting relationships, both with your followers and potential partners.
Each time you publish an article on your blog, produce a new piece of content, or have a new offer, you'll create social media posts designed for the channels you're posting to (think "native" content) that get the word out.
You'll share valuable content from peers and, yes, even your competitors. If it relates to your brand's primary topic and helps your followers, it's worth sharing. You'll also engage with people one-on-one, both asking and answering questions.
By adopting a similar approach, you won't just attract happy followers, though you'll have plenty of those. By sharing useful content from other brands, you'll build good will and strong alliances with the brands you share.
For example, we've consistently shared content from Content Marketing Institute, Buffer, and MarketingProfs. Initially, that led to a robust network. But some of those relationships have turned into strong partnerships, as well.
Sources:
https://www.smartsheet.com/content/social-media-plan-templates
https://wpswings.com/blog/holiday-social-media-plan/
https://www.digitalmarketer.com/digital-marketing/social-media-marketing-strategy/