How To Hire A Ghostwriter
If you want a sample, be prepared to pay for it. Hiring a ghostwriter is a big commitment, so it's understandable that some authors may feel more comfortable getting a sample of the sort of work they might expect from a potential partner before they sign a contract. But keep in mind that writing is how writers make their living, and as the saying goes, if you're good at something, never do it for free. So if you choose to go down this road and ask for a trial chapter, be prepared to pay an appropriate fee for their time.
How To Hire A Ghostwriter
Over the last several years, our agency has brokered more than 500 successful writing collaborations. The most important insight we have gained from this matchmaking work, as we often note to new authors, is that working with a ghostwriter is a lot like getting married for a moment. Our clients make their careers, their lives, even their families an open book to their collaborators—which often makes for an intense, emotionally trying experience that demands reliability, care, and commitment.
In the last installment of our Ghostwriting Confidential, we encouraged authors beginning their search for a ghost to keep this guiding principle top of mind—and to think about picking a writing partner like choosing a life partner. To find the ideal match, first get clarity about your goals and priorities, and then look for the right person for your project. That not only means the requisite skills and experience, but choosing someone you can unequivocally trust to capture your vision and protect your story.
Today, we look at the second half of this partner-picking journey: how to get to "yes" once you have found your match. Just as with getting engaged to a future spouse, we advise a shift in focus at this point from "I" to "we." It's not like hiring a plumber or electrician. You are building a relationship with your writer, one that requires a foundation of trust. As such, you can't just think about what you want out of the deal. You also have to consider your partner's interests and priorities, and how they might feel about the arrangement once work begins.
Putting Yourself in the Ghostwriter's Shoes
Before you jump into a negotiation with a ghost, it's a good idea to get a full understanding of the ghostwriting marketplace and how ghosts typically like to structure their arrangements. Doing so will not only give you some perspective on your ghost's expectations, but also provide some baseline standards to work from once you start your negotiation.
Bookwriting Fees
As we noted in the last installment of this series, one of the central challenges of hiring a ghostwriter is the lack of transparency and standardization when it comes to pricing. Most ghosts prefer set project fees over hourly rates. But prices can vary greatly depending on such factors as the complexity and time demands of the project, the caliber and experience level of the writer you choose to engage with, and, to some degree, where the writer is based. Some of the writers we work with charge $30,000 to do a short memoir or self-help book, while our most elite writers charge upwards of $300,000 to do a "big-think" book or CEO memoir for a major publisher.
Proposal Fees
If your goal is to sell your book to a trade publisher, and your name is not Oprah or Obama, then chances are you will have to first develop a proposal for an agent to shop to different publishing houses before you write the full book. For this service, the price range is definitely more standardized. The going rate for an accomplished ghost to write a full-length proposal is about $10,000. There are certain elite writers who charge anywhere from $15,000 to $25,000, especially for big-think books that require some original research and/or interviews. At the other end of the spectrum, there are a number of writers whose fees range from $5,000 to $7,500.
For some genres, such as memoirs, you may need to develop both a full manuscript and a proposal before an agent will shop your book, and in those cases, it is sometimes possible to "bundle" proposal and book together for a discounted fee—if a writer is already developing a full manuscript, then some of the elements of the proposal (e.g., sample chapters, chapter outlines) will require less additional work than if they are creating a proposal from scratch.
Pay Structures
How and when ghosts get paid also tends to be more standardized. It's fairly common for ghosts to split their payments into halves or thirds in order to balance their interests with those of their clients. They typically ask for a good chunk of money upfront to lock in their time—there is an opportunity cost to committing to work with an author, so ghosts are careful to guard against getting ghosted themselves. And then they will get another sizeable chunk upon completion to signal to the client they will see the project through to the end. Beware, though, of any ghost who asks for the entire fee upfront. Such a request would be unprofessional and a big red flag about that writer's ethics and commitment.
At the same time, don't be surprised if a ghost proposes an alternative payment schedule, such as a monthly retainer. For example, if the fee is $60,000 and the project is scheduled to take six months, they may ask for $10,000 a month, thereby waiving a bigger upfront payment in exchange for more regular income. Such a pay-as-you-go plan generally works in the author's favor, especially if the relationship does not gel as expected and it becomes necessary to terminate the agreement in the early stages. Either way, it's useful to ask the ghosts you are considering as finalists about how they like to structure their pay ahead of time, so you have a good idea what to expect once it's time to talk turkey.
Percentage Deals
A question we often get from new clients is whether a ghostwriter might agree to "split the profits" instead of getting paid a set fee. For the overwhelming majority of cases, the answer is "no," because most non-fiction books written by ghostwriters—even those that get sold to major publishers—don't generate any royalties. An experienced ghost will not be inclined to sacrifice even some—let alone all—of their guaranteed compensation in exchange for the possibility your book strikes lightning. If you find someone who will, it's probably a warning sign that they are not a reliable professional.
There are two primary exceptions to this rule. If you are a prominent public figure with a major platform and already have an agent—or are a sure thing to get one—then a ghost may well be open to a deal structure wherein they get a share of the advance (usually in the range of 30 to 50 percent) and the royalties (the profit an author makes after the publisher earns back the advance). The other exception is when an author has limited means but a dynamite story that has a realistic chance of not only getting sold to a publisher but being turned into a film or TV property as well. In those rare cases, a ghost who falls in love with the story may roll the dice, waive their up-front fee, and go in as a 50-50 partner.
What can you expect from a ghostwriter?
In general, for a nonfiction project, a ghostwriter will rely on the author to provide all the stories, case studies, research and other materials that will be used in the project. The ghost may also conduct interviews with the author and other experts to gather information and stories, and sometimes he or she also conducts research.
For fiction, the role of the ghost is less well-defined. Some novelists give their ghosts a premise, the main characters and an idea or two for how the book might end and let the writer take it from there. Other authors will break down each chapter with the ghost before the first draft.
With both nonfiction and fiction, experienced ghosts can also help you to flesh out your primary point or storyline, organize your material in a way that makes sense to readers and guide you in making decisions that are in your book's best interest. It's very important that you hire a ghostwriter you can trust not just because of your confidential material and relationship, but also because you're counting on their insider knowledge and need their advice.
What will the standard process be like?
Once the writer has produced the third draft of the entire manuscript, the next step is editing, which is then followed by proofreading — both of which should be done by someone other than the writer. If you're curious about how much of a bite all of this will take out of your wallet, we recommend taking this quick 10-second quiz below that will help break down the costs for your specific genre.
What will it cost you to hire a ghostwriter?
How to hire a ghostwriter
Hiring a ghostwriter won't be easy, but if you put in the time and effort to find the right ghostwriter for you, it'll be worth it — and you'll even emerge at the end of your collaboration with a beautiful book. Without further ado, here's how to hire a ghostwriter in nine clear steps.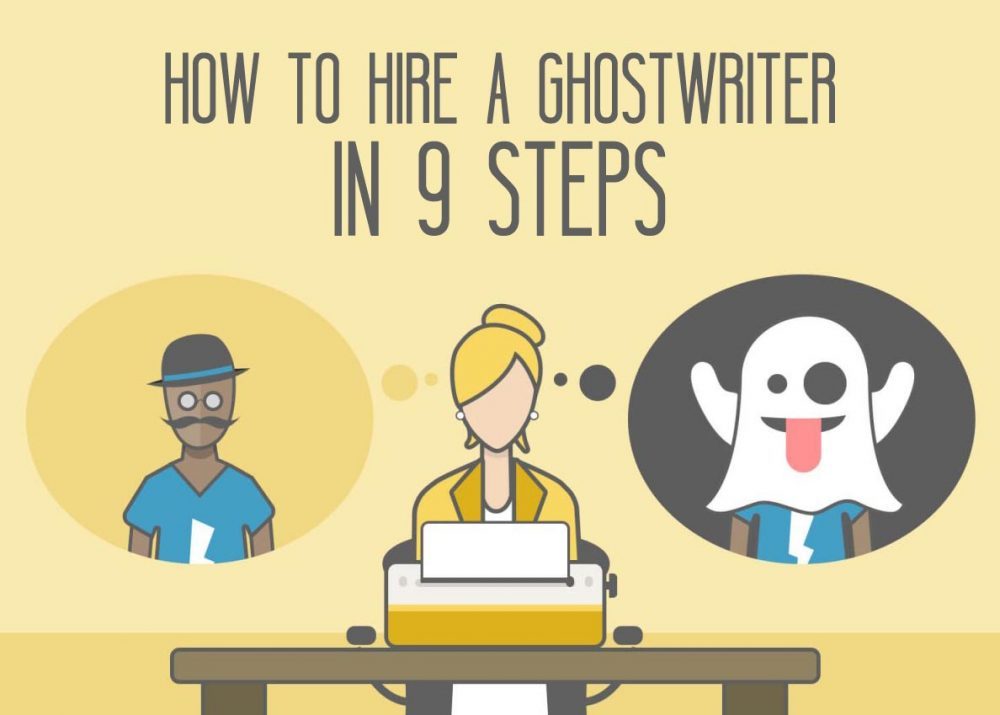 Step 1. Define your project goals
Before you put any of your hard-earned resources into this project, you first need to be clear with yourself on what you want to achieve. This will help you in the later parts of the process when you're explaining your objectives and goals to your ghost. Ask yourself:
What will your project do for readers or consumers?
Do you want your book to teach readers something valuable or life-changing? Do you want to entertain them? Do you want to awaken them to a different perspective or shock them with an alternate reality? Are you hoping they'll be changed in some way or make different choices as a result of your book?
What will your project do for you?
Are you looking to expand your outreach, increase your credibility or brand yourself or your business? Do you want the book to open doors for speaking engagements? Is your ultimate goal to make the fiction list for the Sunday Times? Give some real thought to how you want this book to benefit you — that will be an important factor in determining the book's value.
Step 2. Know where to search for ghostwriters
Next, you need to find the ghostwriters themselves — which is easier said than done! Ghostwriters aren't the simplest professionals to find. We tend to keep low profiles and are limited in terms of sharing work that we've done. For that reason, matchmaking companies (like Reedsy, who deal with book ghosts) are excellent places to begin your search.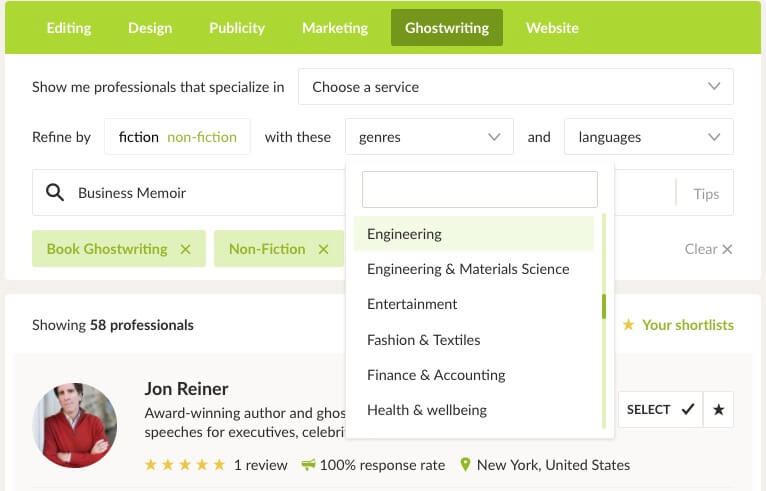 Review the ghostwriting marketplace and list three to five top choices. Then read the profiles and look at the projects listed and pick the two or three that seem like the best fit for you. Read their profiles, look at their listed projects, pick the two or three that seem like the best fit for you.
Reach out to your top two choices, provide a succinct description of what you want and need for your project, and allow for some back and forth so the writer has a clear grasp of the project before quoting a fee.
Top Tip: You can also look at the Acknowledgments page of your favorite contemporary books and see if the author thanks a particular writer or wordsmith. Some authors refer to their ghosts as "editors," although we're not.
Step 3. Assess the ghostwriter's skill level
The best professionals in this field have strong writing and storytelling skills, keen problem-solving skills, and the ability to process and organize large amounts of information. The cream of the crop can also capture the author's true voice. Whether your project requires the best in the business, or just a strong writer, will depend on your goals.
If you have a trusted editor or literary agent, ask him or her to weigh in on any potential ghost. You'll be able to tell great writing from writing that stinks, but a publishing professional in the field will be tuned in to some of the finer nuances that make a big difference. You can also make an assessment based on what you like and what sounds good (or reads well) to your ear.
Looking for a professional ghostwriter?
Step 4. Look at the ghostwriter's previous works
The second question is easy enough, but the first is trickier. Ghosts will negotiate with authors over whether we're permitted to tell potential clients about the scope of the work we've done with them. So, chances are that the ghostwriter you're considering to hire has work they can show you or tell you about as well as work that they can't mention.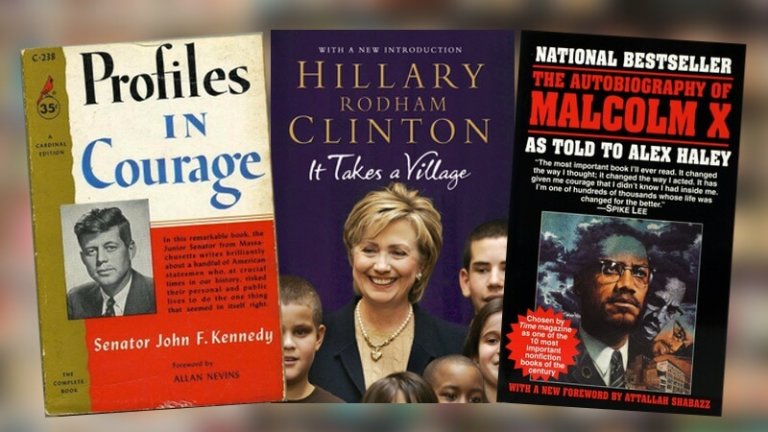 There are still ways that you can get a sense of the work that ghosts have done by checking out their websites. For example, our website lists books we've worked on but doesn't state the role we played in each book. We wrote some, edited and doctored others, and co-authored a few. Unless the ghost's professional experience has been only as a deep ghost, they should have some published acknowledgments they can share with you.
Can You Make a Living as a Ghostwriting?
But, is ghostwriting illegal or ethical? No it is not illegal and it is considered ethical. The only exception is if you are paying someone to take a test for you or do your homework for you as a student. It would also be illegal if you forged your writing when it was someone else's. With ghostwriting clients they pay for your ghostwritten work and assume it as their work. That is not forgery.
If you can get in the author circle, then you can ghostwrite for authors. This is very lucrative. But, if you just look at job boards and find any ghostwriting gig, you won't grow your business or make this a go for very long.
What I'm trying to tell you is to really hone down on the type of client that seeks out ghostwriters. While I do mention that anyone hires ghostwriters, only pair yourself with the ones that are high-paying!
Sources:
https://gothamghostwriters.com/how-to-hire-a-ghostwriter/
https://blog.reedsy.com/choosing-ghostwriter-step-by-step/
https://elnacain.com/blog/ghostwriter/